Oliver Seeds mixtures produce high quality feed for horses
Henry Taylor and his family run Blenheim Farm, near Banbury in Oxfordshire covering 200ha of widely varying soils – from Cotswold brash, sand and ironstone.
Arable cropping usually comprises one-year winter wheat followed by one year of oilseed rape. But this year almost half the farm is down to short-term grass leys.
"We didn't really have a plan to go into the forage business," explains Mr Taylor. "We made good hay and friends and Sally's contacts took it and liked it. This developed into a more formal business with the formation of Taylor Made Forage in 2008."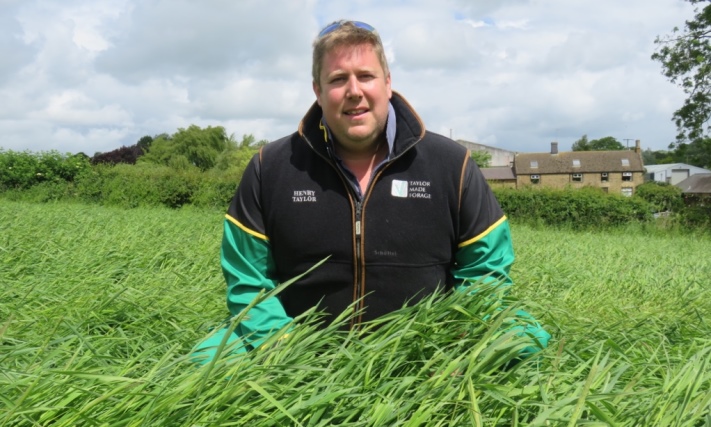 Henry Taylor
The Taylors aim to make as much hay as possible and as quickly as possible – in four days rather than the more normal eight. The green crop is then gently dried in specifically built barns using under-floor ventilation. If the weather turns during the hay-making process, the grass is wrapped and made into high quality haylage.
"We have customers who want hay and those that want haylage – it depends on what discipline the horses are doing. But they all need premium quality hay, with no trace of dust or mould within it."
This year there are 40ha of a first year haylage mixture from Oliver Seeds containing hybrid and intermediate perennial ryegrasses and 50% festulolium, which offer high yields with reduced moisture content.
There is a further 18ha of a third year haylage mixture and 4ha of an Oliver Seeds meadow hay mixture. This has perennial ryegrass, timothy, meadow fescue, crested dogstail and a small proportion of sweet vernal grass in it.
There are also 18ha of spring-sown westerwolds, which are ready for harvest after the autumn sown leys, spreading the peak hay-making workload.
Finally, and for the first time this year 4ha of pure timothy has been grown in response to demand from one customer. Drilled on the 7 October, it established well and looked good until rain flattened it at the end of May.
Grassland agronomy
Grass seeds are put in after wheat has been harvested in August. The ground is sub-soiled and cultivated with discs or a power harrow and the seed sown using a Vaderstad disc drill.
The field is then rolled and left, until it is given a dose of magnesium and manganese in the autumn.
Tramlines are not used, as the grass tends to fall into the tracks and it is harder to cut and pick it all up cleanly at harvest.
In mid March, fertiliser is applied in one application at a rate of 100kg of liquid nitrogen using a dribble bar.
At the beginning of April the grass is sprayed to control rust with a propiconazole treatment and some more trace elements are applied.
"We aim to cut for hay on the first of June," says Mr. Taylor. "This year we had the dry spell when it didn't grow and then storm showers that flattened it. We mowed more than a week later than ideal."
The grass is cut with 3.2 metre mower conditioners on the front and back of the tractor, and then left on the ground for the rest of the day and the next day. It is then placed into tight rows, which dries the exposed ground.
The next day the grass is spread with a Lely Lotus tedder 1250. The number of times it is tedded depends on the weather, but Mr. Taylor aims for twice a day for four days. Then the material is rowed up with a Claas twin rotor rake and baled with a New Holland 5070 baler for hay or a Claas 2100 baler for haylage.
The haylage is a day away from becoming hay so it does not have too high a moisture content. It is then wrapped with green wrap using a McHale 998 wrapper and the 190kg bales are stored outside in the yard. They are ready to be sold and fed after 10 weeks.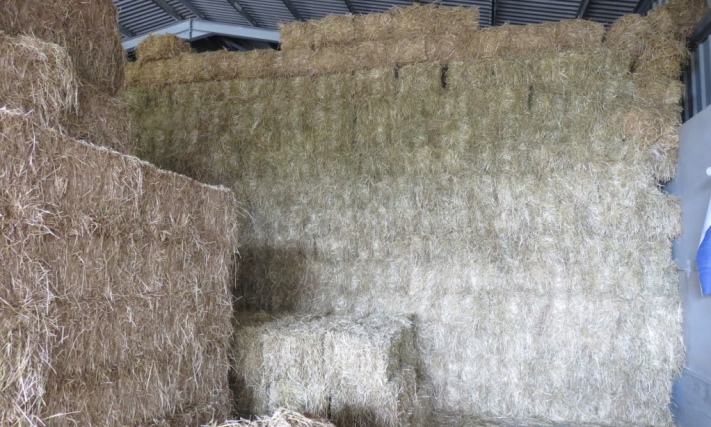 Hay storage in the shed
The hay is carted to the barns where cool air is blown through the bales to stabilise them and prevent any heating or fungal formation. Temperature probes monitor the temperature throughout the stack to ensure consistent high quality.
"We have invested significantly in new storage for this season," says Mr. Taylor. "We can now store 26,000 hay bales, which will be harvested during June, and will start going off the farm from the New Year.
"We deliver to as far north as Birmingham and as far south as Kent. We will deliver locally using a truck and trailer or can palletise loads and send them off on artic lorries. The price varies depending on delivery and quantity.
"The way we make and store hay is pretty unique – some people can make good hay but don't have the facilities to store it properly. By making green hay and then cocooning it in our sheds – we produce a bright, clean product which customers love and keep coming back for more."
This is an edited version of an article that appeared in Farmers Guardian on 30 June 2017.