Lucerne provides certainty for winter forage
Lucerne proves its worth on Shropshire farm that dries up each summer
Newnham Farm runs to 204 hectares in the village of Yockleton near Shrewsbury. The soil is gravelly loam and dries up each summer, so this is not a grazing farm. Rather farmer Andrew Dale concentrates on growing good crops of grass, maize and lucerne for cutting.
The 360 Holstein-Friesians, some crossed with Fleckvieh, others with Swedish Red, produce 10,500 litres of milk a year at 4.1% fat and 3.35% protein.
All the cows are fed the same diet, consisting 15kg maize silage, 15kg grass and 6kg lucerne, with 5kg of a blend and 1kg of wheat added. Maize has been grown on 49 hectares on fields furthest from the farm for the past 25 years.
Mr. Dale is particularly pleased with the lucerne, which he has grown for the past seven years. Certainly, in the 2018 drought – the fields with the deep-rooted lucerne were the only ones that remained green. It is low cost too, being a legume, it needs no fertiliser and it is never sprayed.
In May 2019, an Oliver Seeds mixture of 73% Fado lucerne with 18% Laura meadow fescue and 9% timothy, was drilled at a rate of 11kg/acre at a cost of £6/kg. The grasses grow along the bottom of the crop, smothering any weeds and helping prevent small stones being picked up by the contractor's forage harvester.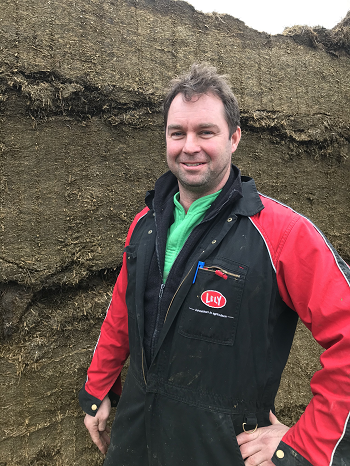 Andrew Dale in front of the lucerne silage
In the second week of May the lucerne is cut first – taking care not to mow below 6-7cm to prevent damage to the crown, followed by the grass which is picked up first. The lucerne is picked up last after a two-day wilt.
The grass and lucerne are placed side-by-side in the clamp and the second cuts of each crop are placed on top. The final three cuts of lucerne are baled and wrapped.
The nutritional analysis for last year's lucerne silage reached 39.3% dry matter at 11.8 MJ ME and crude protein of 22.1%, an ideal complement to the high starch maize.
"Lucerne consistently yields 12 to 13 tonnes of dry matter/hectare and is very low maintenance and can last up to six seasons. In future I might grow more and buy in maize from neighbouring farmers who are growing it without animals to feed it to," says Mr. Dale.
This article was first published in Cow Management in March 2020