Cows to choose which grass is best
Chequer-board of DLF varieties sown on Devon farm to test palatability
Richard Tucker's family has been a tenant at Ditchetts Farm just outside Tiverton in Devon since 1999, and now runs 240 New Zealand Friesians and Friesian Jersey crosses on 183 hectares in a spring block calving system. A main road splits the farm and the terrain is full of steepish hills.
The cows are producing 5,200 litres of milk at 3.6% protein and 4.6% fat, which is sold to Arla to be made into cheese at North Tawton.
The stocking rate on the 63ha milking platform is 3.8 cows/ha and annual grass growth averages 15t DM/ha, although last year this dropped to 13t DM/ha due to the drought.
"As tenants we could not afford to make large capital investments and have had to build cow numbers slowly," Richard explains. "We can easily grow the grass – but we need the mouths to eat it, but without damaging the pasture in the process."
The Tuckers have invested in tracks, using purchased stone as the stone quarried off the farm is too soft for the cow's feet and was easily washed away off the top of the hills. High traffic areas including a steep slope from the parlour have been concreted.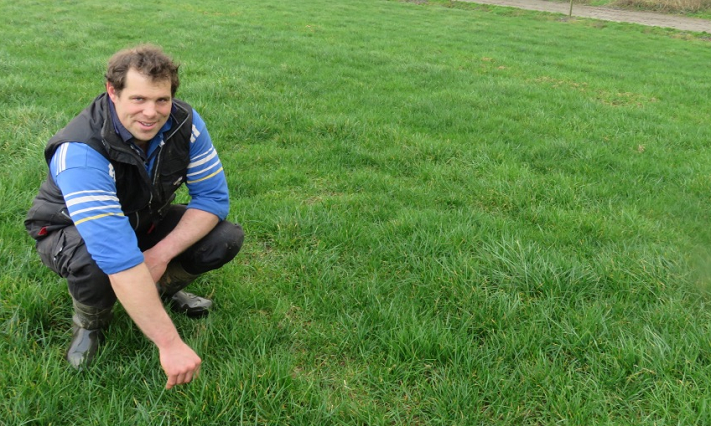 The fields have been split into 12-hour paddocks with a single strand of wire, each with at least two access points. Plastic water troughs have been installed in many fields, although many lost their shape in last year's hot weather. The Tuckers are now moving to using concrete troughs.
Calving starts on 7 February and lasts for 11 weeks, with the cows turned out from mid February. 'Magic Day' is typically the 11 April when rotation length is at its shortest at 21 to 25 days. By September it has stretched out to 35 days and reaches 48 days by mid November. The cows are dried off and loose-housed from mid December.
Richard measures grass growth on the grazing platform every week and enters the information into the AgriNet computer programme. The measurements also highlight which fields are performing the best and which need to be reseeded.
"I like to reseed 10% of the grazing fields at the end of April – spraying off with glyphosate, spreading muck from the shed and then ploughing and working it down to make a fine, firm seedbed.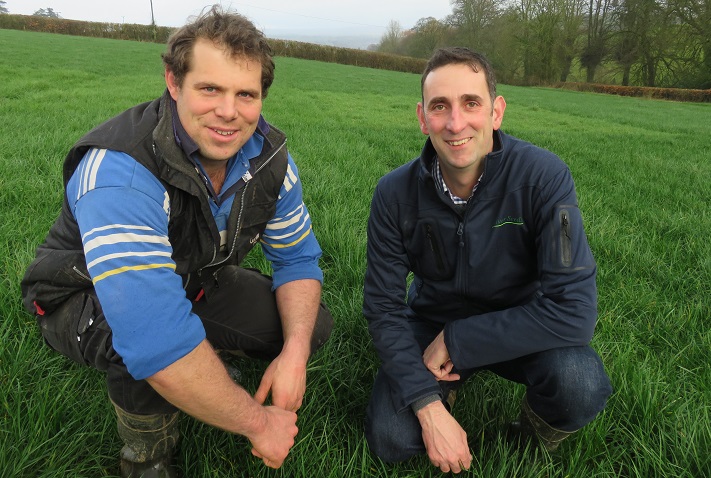 "The seeds mixtures are made specifically for us by John Harris of Oliver Seeds, based on yield, persistency, D value and disease resistance. I tend to concentrate on two main varieties in one field."
Palatability trial
This year John has established a palatability trial at Ditchetts Farm, sowing a chequer-board of DLF-bred varieties in a 40m x 40m area, including late perennial ryegrass Cancan, festuloliums Lofa and Fjotan, Donata cocksfoot and Thegn, a new late tetraploid perennial ryegrass. Sown last spring before the drought, pre- and post-grazing measurements will be taken throughout this summer to find out which the cows prefer.
"Palatability trials are really useful because it is using real cows and is real life," says Richard. "I shall be really interested to see the results.
"It is so important to get the cows to harvest the grass themselves because this is when the grass is at its highest quality. As soon as it is cut, losses occur and it can never be as good again for the cows to eat."

This case study was first published in British Dairying in the March 2019 issue.