Wild Flora
Add colour, diversity and interest to your landscape project with UK native wild flower meadow mixtures
In order to meet with the increasing demand for conservation mixtures, we have formulated twelve mixtures, each designed to recreate a particular habitat.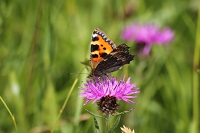 Origin
The wildflower used in the Wild Flora range are guaranteed to be of native UK orgin.
Quality
DLF Seeds & Science has in-house production facilities allowing us to further improve seed quality.
Technical support
Our experienced team is avaliable to provide advice on mixture selection and site management. For larger projects site visits followed by a written report are avaliable.
Contract growing service
DLF Seeds & Science has many years experience in the contract production of wild flower seed and plants. This is particularly useful where extremely large quantities or unusal/rare species are required.
Special mixture service
Whilst our standard mixtures will cater for most situations we are always pleased to advise upon and produce mixtures to your own specification.