Reasons to reseed
Mixtures do well in extended grazing and four cut system
Ifan Griffith reseeds 10 to 15% of his two New-Zealand-style dairy farms on the Lleyn Peninsula every year, making sure fields are never out of grazing action for too long.
With 560 spring-calving cows in total – 360 kiwi-cross cows at the all-grass home farm produce 6,050 litres of milk at 4.92% butterfat and 3.83% protein, off 870kg of concentrates. The cows spend as little as ten weeks indoors.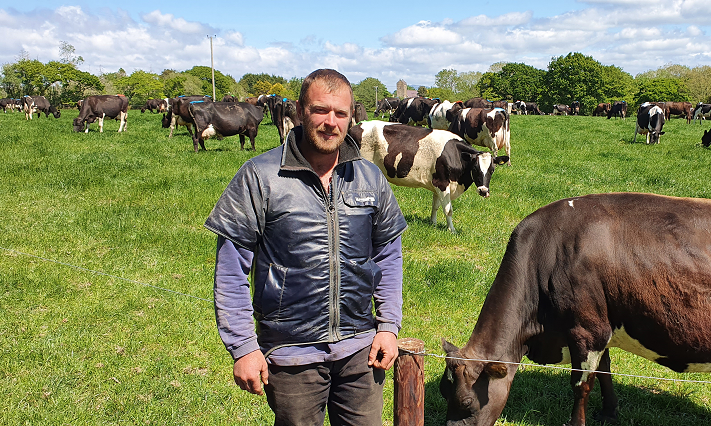 Ifan Griffith and his cows at Plas Newydd
The 156ha grazing platform is set up into paddocks with tracks. Soil type differs markedly from peaty dark soils to light, dry sand. Grass growth is measured weekly in the season with yields averaging 13t Dry Matter (DM)/ha on the home farm.
"We can't plough the fields because they are too stony," Mr. Griffiths explains. "We usually spray with glyphosate, go over it with a power harrow two or three times and then broadcast the seed with a Vicon spreader fitted with a foam blobber, so I know where the seed has been sown. The field is then usually rolled for good soil to seed contact.
"In the dry autumn of 2018, we didn't spray the grass but grazed it very hard with the cows and scratched it with a tine harrow before broadcasting. Sheep came in for ten days to tread the seed in, and the cows were back grazing in a month."
The grazing mixture used on the medium to heavy paddocks is Oliver Seeds Fortress, containing a range of intermediate and late heading perennial ryegrasses, Fojtan festulolium and timothy. It combines a yield of up to 17.6t DM/ha with hardiness and a dense sward.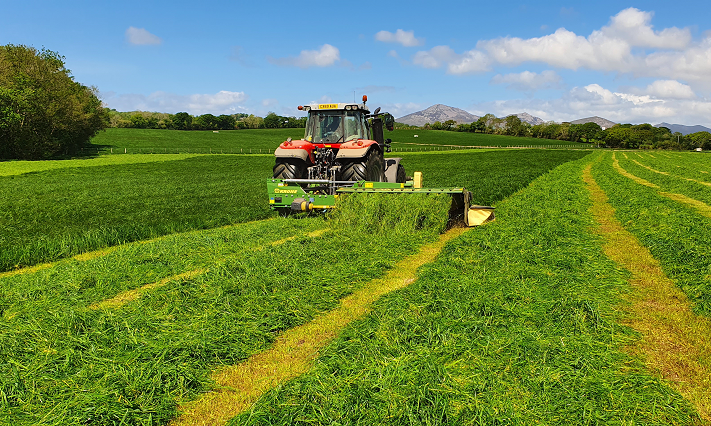 Claymore silage being cut at the start of May
Silage is taken from a 50ha cutting ground two miles away, which is seeded down to Claymore – a six year ley which has varieties selected for top conservation yield. Some of the older leys are overseeded in September with Typhoon – a specialist mixture of mainly tetraploid ryegrass varieties chosen for rapid establishment and accelerated growth. The fourth cut aftermath is scratched with tine harrows before seed is broadcast, followed by sheep grazing for ten days, which prevents the heavier soils from capping, which can prevent grass germination.
"It is relatively easy to grow grass here – which is just as well with so many cows to feed," says Mr. Griffith. "We have worked with Osian Rhys-Jones from Oliver Seeds for many years and their mixtures stand up well to our extended grazing period and four silage cuts, in varying weather patterns."
This article first appeared in Dairy Farmer, July 2020