John Harris has been helping Chris McWhirter set up his beef and sheep farm in Devon
Chris McWhirter and his partner Claire have been farming at Lower Farm, High Bickington in North Devon for six years - coming towards the end of their first seven-year Devon County Council farm tenancy.
"I am not from a farming family but knew I wanted to work in agriculture since having a Saturday job on a farm when I was 13," Chris explains. "It's been a bit of a rollercoaster, including a course at Plumpton College, working on a cattle station in Australia with 4,000 cows, contract shepherding in Dorset and setting up a ewe pregnancy scanning business.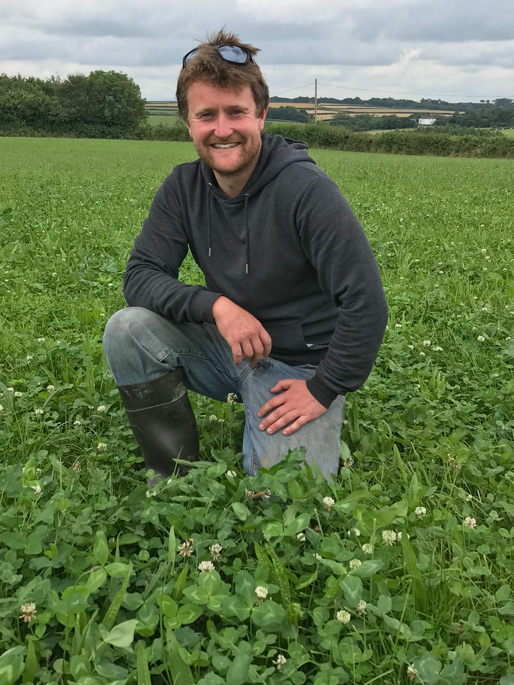 "I applied for a council tenancy when I was 23 and was turned down. But when things did not work out with the original tenant at Lower Farm, they gave me a call."
Chris was awarded the tenancy in January 2015 to start in April. Luckily for Chris, a local farmer wanted to sell some animals to help his cashflow, so Chris bought a half-share of 230 ewes. Together with five dairy-bred beef calves, this was the first livestock for the farm. While numbers remained low, Chris was still working four days a week for other farmers and continues to pregnancy scan ewes to this day.
"Running my own farm came as a bit of a shock," Chris admits. "While I had been looking after livestock for many years, there is so much more to do when you are in charge. I am so many different people – I am a vet, a plumber and electrician, a mechanic, a business planner and manager to name but a few!
"There is a lot of advice out there – but to be honest if I bought everything the feed rep and vet told me to, I would be bankrupt by now.
"I have come to realise that what is important to me, my animals and my farm, is how I manage my grass - making sure there is enough good quality forage for the sheep and cows to be productive. This is what now drives the business."
Early years
The original flock contained some purebred Dorsets and Chris lambed an early flock of 40 ewes at Christmas, followed by successive batches until April, for the first three years. But the cold winter of 2018/2019 and summer drought that followed took its toll on grass growth and lamb survival and Chris lost money.
"I started doing the AHDB Farmbench financial benchmarking exercise which showed early lambing was not the way forward," says Chris.
"I was hungry for information and signed up for the local AHDB discussion group. And with grass and forage now sitting at the heart of my business, the other person I listen to is John Harris of Oliver Seeds. He has always given me more time than I deserve."
Chris soil tested the whole farm when he first arrived and applied lime to bring the pH up to the higher levels needed to support good grass growth. The indices for phosphate (P) and potash (K) were also low in some areas and Chris has applied appropriate fertiliser to remedy this. He now soil tests all the fields every three years and reseeds approximately four hectares annually.
The farm resides across a valley, with a wet, heavy clay side and a drier side. Chris has been reseeding with Century, a late perennial ryegrass, timothy and white clover blend which produces a hard-wearing, dense sward for grazing, but also provides high quality silage from any surplus growth in a good year.
"I definitely want to grow more legumes," Chris adds. "Fertiliser prices are ridiculously high and legumes offer a mixed diet and soil structure benefits and free nitrogen. I engaged with the Innovative Farmers' Field Lab looking at grazing ewes on lucerne and I will be sowing three hectares of lucerne with Birdsfoot trefoil this autumn as a trial.
"We shall also be including some DLF PLUS GRASS festuloliums such as Fojtan in future mixtures – particularly on the wetter fields to give some additional wet weather resilience."

Current system
Almost 550 ewes and ewe lambs will be tupped this year to lamb next April when grass growth is at its best.
Dorset teaser rams are put in with the ewes for 13 days to keep the lambing period tight – last year 80% lambed within ten days and 95% in two weeks.
The breeding sheep are now predominantly north country mules which tend to lamb unaided and are good mothers. Several different rams are used, but for replacements, ewes are mated to Aberfield rams, which breed lambs with good survival traits, necessary for outdoor lambing.
In spring and summer the sheep are rotationally grazed around the farm. In the early years, electric fencing was set up and moved using a wheelbarrow, but now Chris uses a Rappa fencing system and quad bike.
The ewes are fed no cake and the lambs are not given any creep feed. Some of the lambs were weaned earlier than usual this year at around 11 weeks of age, to give the ewes more recovery time after the cold spring.
The rest of the lambs were turned onto Raptor, a Tornado ryegrass and Winfred forage rape catch crop mixture to finish.
Chris weighs the lambs in a new digital weigh crate which he bought under a small capital grant scheme and has all the weights accessible on his computer.
This year, due to the lack of early grass, growth rates to weaning were down averaging 245g/day. Currently most lambs are sold to ABP and last year averaged 20.4kg deadweight.
The sheep are all outwintered on winter keep, mainly on local dairy farms. The sheep are fed no conserved forage.

Beef cattle
Chris buys milk calves from February to October, preferably from local dairy farmers and rears 75 each year. He has them on milk powder for six weeks and uses a calf blend to help them transition to solid food. He sells reared calves at four months of age and 12- to 18-month-old stores through Holsworthy Market.
Cattle rotationally graze the grass fields from early spring until autumn. This year they will be outwintered on fodder beet with access to grass silage bales. Previously he has tried using kale but fodder beet, while more expensive to grow, keeps twice the number of bullocks on half the acreage.
"The cattle business has to be efficient to make money," says Chris. "Cattle are an eighteen-month gamble and they can only pay their way in a simple, low-cost system. There are buyers that want grazing type stores and that is what I aim to give them."

Future
Chris and Claire – who is an accountant and currently on maternity leave, have just taken on some additional land. This is drier ground than Lower Farm and opens up the possibility of raising stock numbers. The lucerne is being grown there, as is a crop of Winter Feed - a kale, rape and green globe turnip mix, which will give reliable grazing in mid to late winter.
"I am building a system that should be profitable without subsidy," says Chris. "This year the stock has done very well, even though I am still making mistakes out in the fields.
"It doesn't all go smoothly. Last year we had a massive issue with redgut in recently weaned lambs that were put on a red clover, plantain and grass mix. It was mainly a management issue, but we learned from that, as we try to learn from all our experiments.
"Something is always changing in farming – and we have to be flexible, but always recognising that things can change in 24 hours.
"I have always wanted to farm for myself and I achieved that when I was 23. Thanks to support from my family, using money they had set aside for university fees, a lot of hard work and input from good and trusted advisers, things are starting to work.
"We are starting to get bigger and are less scared to invest. We have just been granted another seven years at Lower Farm and the future is looking good."
This article first appeared in South West Farmer, November 2021