Right forage mixtures in the right place!
Selecting specific seeds mixtures for individual fields produces impressive yields of high-quality forage for award-winning organic dairy farm in West Wales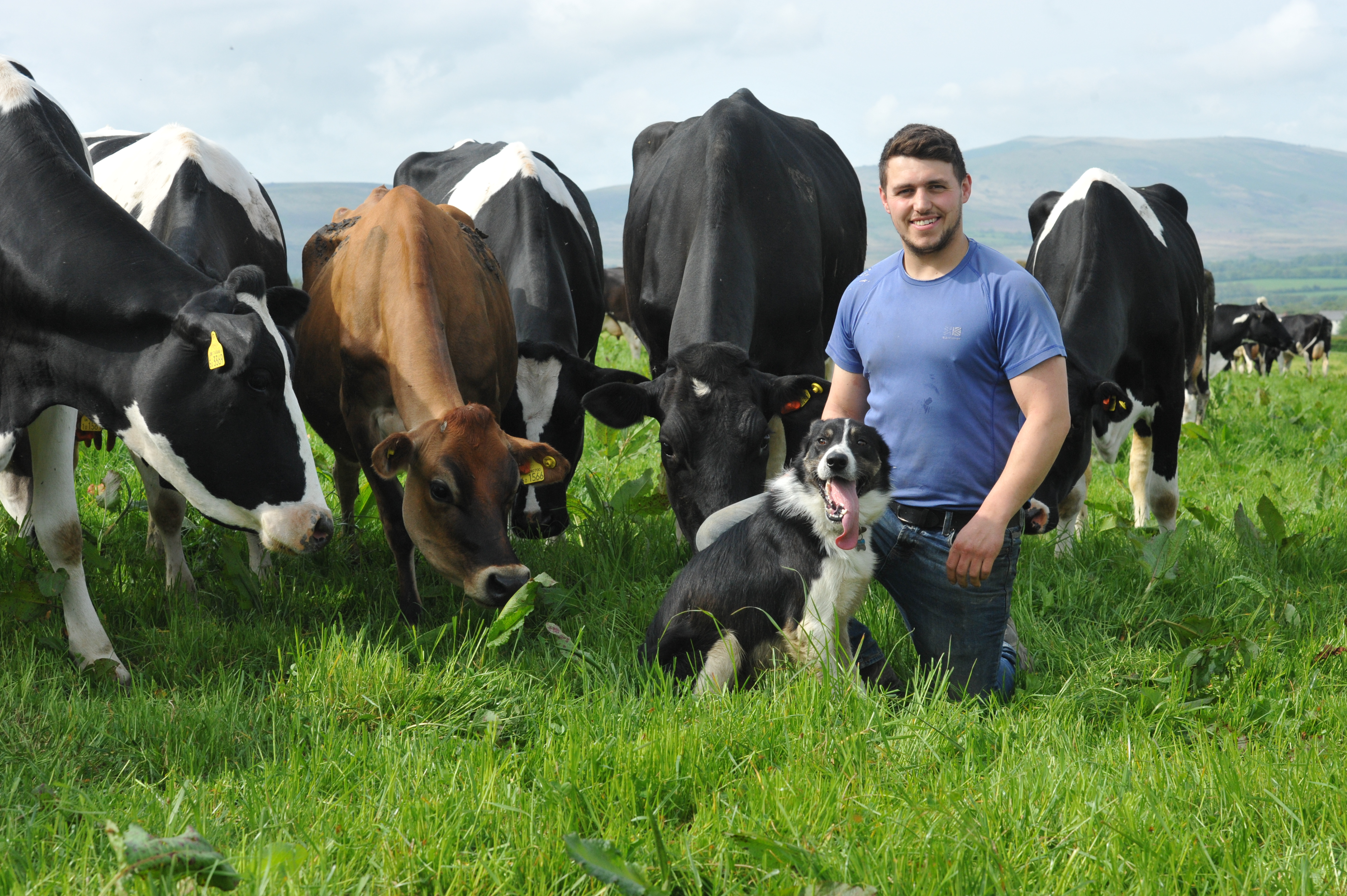 Aled Rees farms with his wife Hedydd and his uncle David Jenkins, and since the summer of 2017 Aled's son Owain, who returned to the family farm after studying a three-year course in agriculture at Hartpury College in Gloucestershire. Aled manages the cropping and Owain manages the milking herd and grazing platform.
The farming business is based at two farms and is now into its seventh generation. In 2022, the family won the British Grassland Society Grass Farmer of the Year Award.
The farm converted to organic 24 years ago to add value to the end product. Since then, the farm has grown in size with local land bought and rented when it became available in Pembrokeshire and Ceredigion.
The price of organic concentrate feed, coupled with a desire to feed the soil and build life from the ground upwards, means the family produces high quality forage which generates more than half of the 7,333 litres of milk produced by the 400 cows a year.
Around 3,000 tonnes of silage, growing at 10.5t/ha DM, are made from four or five cuts of silage. Grass yields on the grazing platform reach an annual average of 10t Dry Matter (DM)/ha, despite being managed organically. The first cut in 2022 analysed at 35% DM, had a D-value of 73%, a metabolisable energy (ME) of 11.75 MJ/kg DM and 15% crude protein.
"We try and make as much high-quality conserved forage as possible and do this by thinking about each field and what is best to grow in it," explains Mr Rees. "Then we establish it correctly and grow and harvest it as best we can.
"At all times we think about the soil and never make a muddy mess, even on our dryer farm. On the heavier land, the cows are housed earlier and tack sheep are brought in to carry out the final graze in preparation for the following season."
Mr Rees has worked with agronomist George John who is based in Carmarthen for fifteen years. Mr John soil tests most fields every year and applications of phosphate (P) and potash (K) are based on this. The main source of P is Tunisian soft rock phosphate which is applied to silage ground at a rate of 183kg/ha annually. The main forms of K are slurry and muck which is applied to all fields, grazing and silage.
The only form of nitrogen (N) comes from the farm's own slurry and clover. Contractors apply 6,250kg/ha of slurry with a dribble bar at the start of the year, followed by in-house applications at rates between 3,750kg-5,000kg/ha after grazing or cutting.
Grazing
Cows graze on a rotational system and are offered a fresh feed twice a day. Residuals are taken down to 1,650kg DM/ha to keep grazing quality high and to stimulate good regrowth.
Grazed grass is measured weekly through the season and inputted into the AgriNet management system. This knowledge, together with the amount of silage that comes off each field, informs Mr Rees about which ones need reseeding. Around 10 per cent of the land is improved each year.
"If silage fields need reseeding, they enter the arable rotation, which currently consists of one year in winter forage rye and vetch, used as a feed for autumn-calving dry cows and harvested in June, followed by forage rape, which is grazed through the autumn and winter." Mr Rees explains.
"Year two is fodder beet which is clamped and chopped up in the feeder wagon and fed with silage, minerals and live yeast for the cows' winter diet. Year three is barley and peas undersown with grass and clover. This succession of crops is essential as it allows us to minimise weed infestations."
Short-term leys
When Mr Rees is looking for a short-term break crop, he uses fast-growing mixtures.
Tornado is a ryegrass catch crop that is high yielding and will last for up to 18 months. Crimson Tide is a high protein version of Tornado, containing 77% Westerwolds, with 13% crimson clover and 10% Balansa. This is a new winter hardy annual clover, which has white or pink flowers and is a good nitrogen fixer.
While avoiding poaching is a primary objective, there are some areas such as gateways, that do sometimes need remedial overseeding.
For this, Mr Rees relies on Typhoon, a large-seeded hybrid ryegrass and intermediate perennial ryegrass mixture with 20% Perseus festulolium for added resilience. This is sown using a fold-up chain harrow with a Stocks Fan Jet seeder box. The seedlings germinate quickly – covering over any bare patches before weeds get the chance to establish.
When larger areas are reseeded, Mr Rees usually has to plough as minimum cultivations would allow too many weed seeds to take hold. Until now he has used an einbok seeder but feels its performance can be erratic with the high organic seed rates he uses. He has just bought a second hand Vicon seed drill and intends to adapt it to make a 4-metre grass drill to try and get more even distribution of seed.
Longer term mixtures
For silage crops, Mr Rees relies on mixtures that will last four years or more. Broadsword is based on hybrid ryegrasses which combine the high yield and sugar content of the Italian ryegrass parent with the persistence and feed quality of the perennial parent. Perseus festulolium is also in this mixture and there is 5% Brianna white clover while a blend of red clovers make up 20%. Trials carried out by Oliver Seeds show a yield advantage of up to 2t DM/ha in the second harvest year compared to a no clover option.
Claymore is a longer-term option for silage fields – performing well after five years or more, containing intermediate and late perennial ryegrasses, Winnetou Timothy and 5% white clovers that are most suited to cutting. Mr Rees direct drilled organic Claymore Hi Pro with 17% red clover and 4% white clover in the dry March last year.
"The forage rye had not wintered well and we decided to give something else a try," says Mr Rees. "We direct drilled into the rye, which we took off as wholecrop on 21 June. The Claymore established really well and we took a cut of silage in October. It is looking very good this year."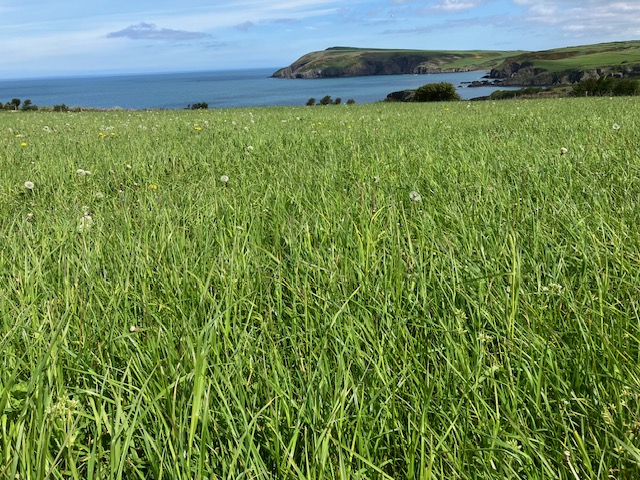 "Last year we took on some ground right on the coast at Fishguard which is on dry, shallow soils. We reseeded three fields with Landmark Extreme with added red and white clovers – formulated for particularly challenging sites," says Mr Rees. "It got through last summer's drought OK – the last two cuts were quite light, but it has bounced back now."
Silage-making
Weather permitting, cuts are made every five to six weeks, with the first taken at the end of April or beginning of May. Up to seven owned mower-conditioner mowers are used which allows large areas to be cut at the optimum time of day while sugar levels remain high. A large 11 metre tedder follows the mowers to spread the silage and helps wilting. A biological inoculant is used on all silage.
A contractor is used to rake, harvest and clamp the silage. The contractor uses a large JCB loading shovel to put the grass into the clamp and another tractor is run alongside to help consolidate it.
"Being organic, clover plays a very big part in what we do here," admits Mr Rees. "We grow and feed all types, white, red and crimson. We have even tried lucerne – but it could not cope with the weeds."
---
This article first appeared in the June 2023 issue of British Dairying.