Taking first steps in dairying
Restoring grass and forage crops for a new dairy herd
Pete Bullock ran a busy contracting service carrying out a wide range of operations - from hedge-trimming, combining, silaging and rota seeding. But he always felt he would like to work hard for himself, and not just for others.
He and his wife Sadie, a procurement and farm administration manager at St Boniface Vets in Crediton, are both from farming backgrounds and were often on the lookout for farms to rent.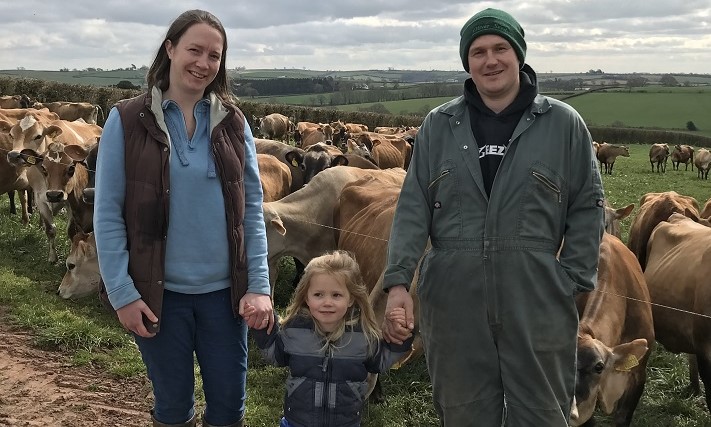 Sadie, Tiggy and Pete
In 2017 the dream came true when one of Pete's loyal customers, John, Marilyn and Richard Daw suggested he take on 29 hectares at Middle Weeke Farm in Morchard Bishop. The milking set-up on the farm had lain dormant since the 2001 Foot and Mouth epidemic.
"We are very grateful to the Daws, who run dairy cows on the much larger Home Farm," says Pete. "They offered this holding to us on a ten-year Farm Business Tenancy four years ago.
"The next piece of luck was being able to pick up a supply contract with Arla. They just happened to be looking for a few million extra litres of milk in the exact week that we contacted them. Happily they set us up with a contract and we were all systems go!'
The farm buildings were in very poor repair; the six-stall abreast parlour was un-useable and there was a cubicle shed with no cubicles in it. Pete retrieved a newer parlour at a farm near Tiverton and with help from friends installed second-hand cubicles, completing them the night before the first cows arrived. The barn was later extended to make room for a further 14 cubicles. These are bedded with sea sand.
An underground slurry store was added and pig housing was converted to overwinter heifers. In the fields, cow tracks were put in using stone taken extracted from other areas of the farm. Electric fencing was set out across the grazing paddocks. The cows are rotationally grazed and moved to fresh grass every day on an average 25-day cycle.
"We bought our first cows through the Jersey Sales at Exeter market," says Pete. "The idea for milking was floated in late April 2017 and we milked our first 22 cows on 23 October.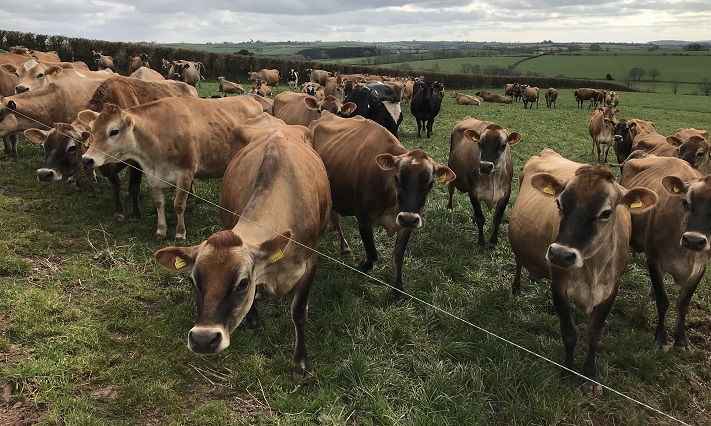 "We have been steadily building cow numbers and are keen to keep to a tight autumn calving block. Until now we have kept everything. But this winter we cannot house more than 85 cows, which will force us to make some harsher culling decisions."
Sexed semen is used on the cows for seven weeks followed by British Blue semen. Pete has undergone training to carry out his own artificial inseminations, which he did for the first time last year. He was nervous about the results but pregnancy diagnoses have been good so far. A Holstein Friesian bull has been bought in to sweep up any tail-enders.
"As part of Arla, we are pleased to take part in their 'Every calf has a value' scheme," says Pete. "We have built-up good relationships with local beef producers who know our calves always receive plenty of colostrum in their first hours of life and have been very well cared for."
The herd is now producing on average 7,2000 litres of milk at an average of 4% protein and 5.7% butterfat. They are fed a Total Mixed Ration (TMR), consisting of 40:60 maize and grass silage, with 2kg of a 28% protein blend and 1.5kg of Regumaize 44 molasses. The cows are fed up to 6kg/day in the parlour, depending on the stage of lactation.
"We are relatively new to this game and am learning all the time. Money is very tight and we have to be brave to make changes. I listen to people who know about my type of farming – those that understand Jerseys. My nutritionist was a Jersey herdsman for ten years and I have faith in what he says. Since he came on board, we are earning 2p/litre more in extra milk constituents."
John Harris of Oliver Seeds is another expert Pete trusts with regards to his grass and forage crops. The fields had grown arable crops for 18 years and 13 hectares was reseeded with intermediate and late heading perennial ryegrasses, timothy and clover the autumn before the tenancy started.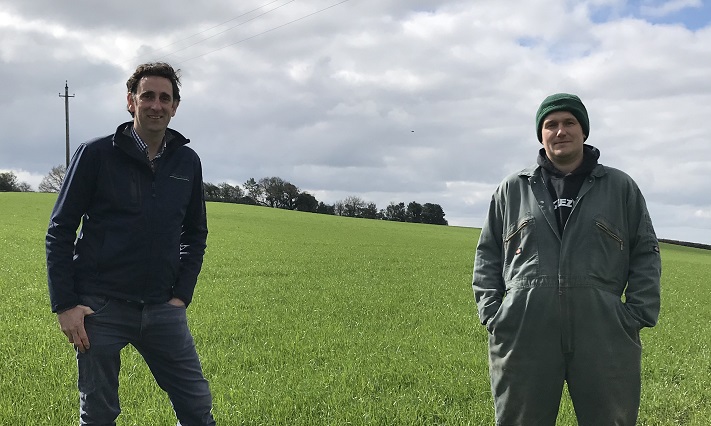 John Harris (Oliver Seeds) and Pete
Since then, other fields have more recently been sprayed off with glyphosate and reseeded with Megabite purchased through Mole Avon in Crediton. This is a high-quality ryegrass and white clover grazing mixture designed for intensive cattle systems. Formulated for full season production, it contains a high proportion of diploid perennial ryegrasses, which score highly for disease resistance and have high intake characteristics.
The field furthest away from the buildings is prone to docks and Pete has taken more drastic reseeding action to get on top of them. After first cut last year, the field was sprayed off, ploughed and sown with Winfred, a semi-dwarf rape cross between a stubble turnip and kale, which produces high protein leafy forage in six to eight weeks. In the autumn, this field was sprayed for the second time and reseeded with Megabite and has come through much cleaner.
Six and a half hectares of early maturing Perez forage maize is grown on rented neighbouring land. Last year Tornado, a persistent Westerwolds/Italian ryegrass mixture which grows quickly in its first year yielding up to 21t DM/ha, was drilled after the maize was harvested on 17 October. It also protects the soil over winter after the maize has been harvested. This will be cut four or five times this spring and will stay down for two years.
"We are aiming to produce as much milk from forage as possible," says Pete. "We have now improved all the grazing, cutting and dual-purpose fields to make this a reality. We cut early – first cut is taken mid to late April and we will take several cuts throughout the season. The first two go into a covered clamp and the rest are taken as round bales. Last year's silage analysis came out at 40% dry matter, 14.5% protein, 71 D Value and 11.5 ME."
Drawing on his contracting background, Pete soil tests all his fields regularly and knows that pH stands in most at around 6.5. This is due to the spreading of slurry which contains the sea sand used in the cubicles. Before first cut 80-90 units of nitrogen (N) are applied, followed by slurry and 60 units of N after harvesting. Fertiliser on grazing ground is subject to the season.
Pete and Sadie have achieved a great deal in their first four years starting from scratch. But as they approach the limit for the number of cows they can keep, they feel unsure about what will come next.
"We keep our eyes and ears open for potential future opportunities and would love to stay local to here – but we are open to going anywhere in the country for the right farm," says Pete. "In the meantime, we shall continue to work hard doing our very best for our young herd."
This article first appeared in the June 2021 issue of British Dairying.